Wenzel 8 Person Klondike Tent review : Camp with family and friends using the Wenzel Klondike tent. It's too heavy for backpacking.
| | |
| --- | --- |
| Brand | Wenzel |
| Color | Blue |
| Closure Type | Zipper |
| Occupancy | 8 Person |
| Item Weight | 27.3 Pounds |
| Pole Material Type | Fiberglass, Steel |
| Shape | Round |
| Maximum Height | 78 Inches |
| Floor Area | 98 Square Feet |
| Seasons | 3 |
Wenzel 8 Person Klondike Tent
Wenzel Klondike 8 Person Family Camping Tent
Convertible screen room with inverted "T" style door and inside flap zippered windows
Removable seam-sealed fly
Mesh roof vents
3 zippered side windows with inside flaps
Shock-corded fiberglass roof frame with steel uprights and corner elbows combined with pin and ring for easy setup
Set a new standard for family camping! Featuring Weather Armor- fabrics to protect you from rain and wind, room for 2 Queen airbeds, and 6.5 feet of head room, the Klondike family camping tent can house your whole party. A large front screen awning provides you a "camping porch" with sun and weather protection to make your camping experience feel like home. The tent includes convenience pockets and vents in the roof and back for nice hi-low air circulation on warmer days.
Great for camping with family or friends, the Wenzel Klondike measures 16-feet by 11-feet. The Klondike sleeps eight, five in its 98 square feet of interior space, with room for sleeping three more in the 60 square foot screen room with its zip up walls. 6.5 feet of head room lets you stand up straight while inside the tent. The attached screen room can also be used as sun shelter, a picnic room, a gear room or a room just to relax in. A full mesh roof and two mesh windows keep bugs out and let the breeze in. In addition a rear mesh vent creates ground breeze. Weather Armor polyester fabric with a polyurethane water resistant coating protects from top to bottom. Double-stitched, lap-felled seams through out the body of the tent provide a shingle effect against water. All threads, zippers and webbing are treated with superior water repellency applications to enforce these critical areas. The Klondike has a fiberglass frame and uses Power Corners that increase the tent's stability in high winds. Included are two hanging pockets that create an area for items needing easy access, a storage duffel and a 10 year warranty against defects.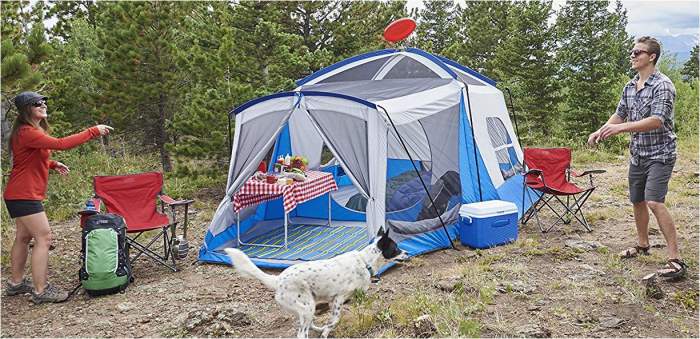 Wenzel Klondike Camping Tent Specifications:
Base: 16 ft. x 11 ft.
Center Height: 78 in.
Eave Height: 61″
• Area: 98 sq. ft. + 60 sq. ft.
screen room
Door: Inverted "T" style, interior flex style
• Floor: welded polyethylene
• Frame: fiberglass
• Stakes: steel and plastic
• Carry Weight: 27.3 lbs.
• Sleeps: 8
POSITIVES:
– After the first struggles of "which pole goes where", setting it up was easy and could be done by 1 adult if needed. Total first-time setup time was about 25 minutes. This means that next time, I can probably do it in about 15-20 minutes.
– The design is good. It provides a separation of a "living"/"storage" space from the "sleeping" space. This is important if you want to keep your sleeping space relatively clean / dirt free.
– The quality and assembly appeared to be good as well. The seams were waterproofed and the sown-in tarp goes up a few inches onto the wall, which will prevent rainwater entering the tent
– Plenty of instructions. Sawn-in instructions in the storage bag on how to pitch the tent. Paper inserts on how to fold it. How to avoid moisture. Et cetera.
– The window covered were well designed and can be stored in a pocket at the bottom of the window
– It was easy to get the tent with all accessories back into the storage bag afterwards. No problems at all.
– The rear (sleeping) space was large enough to fit 2 queen air mattresses.
Camping is far more fun when you have someone sharing the experience with you. But with a family-size tent, you can camp in groups, whether you're traveling with your in-laws, your spouse and kids, your favorite friends or a combination of all of the above. With tents readily available to sleep two or more families, you can turn your camping excursion into an outing to remember.
Chances are, though, you won't want to spend half your trip setting up your tent. Manufacturers have found clever ways to make tent setup easier, including attaching the poles to the material so there are no pieces to assemble. Some family tents can be erected as quickly as 60 seconds, especially once you've gotten the hang of it.
Positives: Very spacious tent. Had room for 3 people to sleep and storage space for many additional items without feeling crowded.
loved this tent! It was easy to set up just by looking at the picture on the front of the bag. There is so much room inside, both to stand up and to sleep. I love the box shape for that reason. It help up well in high winds, just make sure you point the front of the tent into the wind or else the whole side catches the breeze. Stakes held it down well. The only improvement I would suggest would be to include guylines, although this is pretty easy to do on your own. The mess side panels offer a cool feel, both aesthetically and temperature. Plenty of space to sleep. I haven't tried it in rain yet, but I have seen a number of reviews suggesting to treat the outside with waterproofing chemical which I intend to do as well. Great product!
NEUTRAL:
– It was hard to get the walls of the tent to be wrinkle-free. This is a cosmetic issue more than anything else.
– It's definely a "car camping" tent. It's too heavy for backpacking.
the Klondike Tent is comparable in areas such as ventilation and waterproofing. It seems that the Montana Tent has a lot more "bells and whistles" than does the Klondike Tent, including angled windows that keep out rain while open, a hinged door, and an electrical access port.
As far as size is concerned, the Klondike Tent is much spacier than the Montana Tent. The Klondike can comfortably fit four to six campers, while the Montana Tent has some trouble fitting even four. If your camping group is more amenable to day camping, you might prefer the relative ease and simplicity of the Klondike tent. On the other hand, if you travel with a camping group that prefers longer adventures and doesn't mind a tighter squeeze, you would likely prefer the Coleman Montana Tent.
The Klondike's major drawback are the concerns with the tent's durability: it has trouble keeping its stability in high velocity winds. It would thus be perfect for you if you have a smaller family that plans to camp in a warmer climate, where the weather is known and predictable. Due to its ease of installation, you could use the tent regardless of your camping experience level. Based on all these factors, I would highly recommend the Wenzel 8 Person Klondike Tent for your next camping adventure.